Expect Results
Since 1997, Mountain Color has been designing Internet & Graphic Solutions for many clients in a variety of industries. We have created a number of websites individually, and have worked with a number of other design firms as the opportunity presents itself.
A partial list of satisfied clients:

1900 a Day
Bengston Accounting
Booth Products, Inc.
Careers World Wide
CCW Products
Collison Equipment Specialists
Colorado Mortgage Guy
CSOBA
Dolphin Dance
Garmat USA
Gemistore
Grove Kids
Mount Vernon Country Club
Nick's Custom Gun Works
Transit Alliance
Zephyr Spray Booth
B and B for D.O.G.
was Looking for an Internet Presence...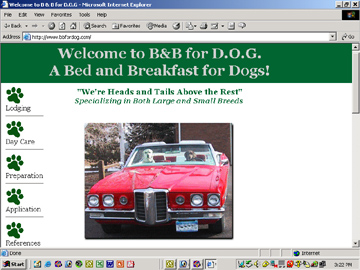 B B for Dog is a day care facility for dogs. Their location is unsurpassed by any other local facility as they are on the way to DIA from just about anywhere in the city. They wanted to make it easier for clients to check in, so they asked to have a downloadable reservation form included on their site.
This form was created and saved as a pdf file. Now an interested party can save time by downloading the form and have it all filled out prior to their arrival.